BPC-157 – 5mg vial
BPC-157 is a penta-decapeptide composed of 15 amino acids. It is a partial sequence of the body protection compound (BPC) that was discovered in and isolated from human gastric juice. Animal studies have shown it to accelerate the healing of many different wounds, including muscle, tendon and damaged ligaments.
Additionally, BPC 157 has shown to protect organs and aids in the prevention of gastric ulcers. BPC-157 acts systemically in the digestive tract to combat leaky gut, IBS, gastro-intestinal cramps, and Crohn's disease. This peptide has been known to exhibit analgesic characteristics. Research has shown its ability to help skin burns heal at a faster rate by increasing blood flow to damaged tissues.
BPC-157 significantly accelerates reticulin and collagen formation as well as angiogenesis together with stimulation of macrophages and fibroblasts infiltration representing a potential therapeutic tool in wound healing management.
Availability: Ships today if ordered and paid by 7AM EST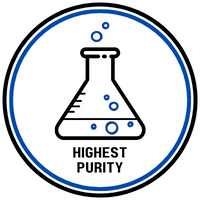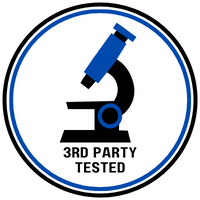 BPC-157 5mg Properties
Chemical Formula: C62H98N16O22
Molecular Mass: 1419.5
Synonyms: Body Protection Compound 15, Bepecin, L-Valine, glycyl-L-alpha-glutamyl-L-prolyl-L-prolyl-L-prolylglycyl-L-lysyl-L-prolyl-L-alanyl-L-alpha-aspartyl-L-alpha-aspartyl-L-alanylglycyl-L-leucyl-
CAS Number: 137525-51-0
PubChem: 994195
Total Amount of the Active Ingredient: 5mg (1 vial)
Shelf Life: 36 months
Product Quality
Lab tests are occasionally published on the website.
You can have the product you bought from us tested at any HPLC licensed testing facility and if the results are negative, we will refund the following:
Cost of HPLC test
Total amount of the order + shipping fee
Peer-Reviewed Studies
Brcic, L., Brcic, I., Staresinic, M., Novinscak, T., Sikiric, P., & Seiwerth, S. (2009). J Physiol Pharmacol, 60(Suppl 7), 191-196.
Seiwerth, S., Sikiric, P., Grabarevic, Z., Zoricic, I., Hanzevacki, M., Ljubanovic, D., … & Kolega, Z. (1997). Journal of Physiology-Paris, 91(3-5), 173-178.
Shipping
USA
Canada
If your shipment was seized (International Orders), we will provide a 50% discount applicable on your next purchase. Please contact us for more information.
Disclaimer
The information provided above is not intended to substitute medical advice, diagnosis, or treatment. Should you have any questions regarding a medical condition, seek the advice of your physician or a qualified healthcare provider.
In no case should medical advice be disregarded or delayed because of what you have read or seen. We bear no responsibility or liability for your use of any of our research compounds and products. Please note that they are being sold for research purposes ONLY. We do NOT condone any personal use.
Note: In some cases wherein the assigned top colors are out of stock, a different top color will be used to ensure that your order will not be delayed. Should you need assistance identifying the peptide vial that you received, please send us an email at careteam@AmericanResearch.net
---
PLEASE CALL US DIRECTLY IF YOU HAVE ANY QUESTIONS ON THESE OR ANY OF OUR PRODUCTS.  
NOTICE - ALL INFORMATION LISTED BELOW IS INTENDED SOLELY FOR EDUCATIONAL AND INFORMATIONAL PURPOSES. THIS IS A RESEARCH PRODUCT AND IS INTENDED FOR RESEARCH USE ONLY. THESE COMPOUNDS ARE NOT APPROVED FOR HUMAN CONSUMPTION. DO NOT CONSUME THEM.
By purchasing from AMERICAN RESEARCH, you agree that you are purchasing Research Chemicals. AMERICAN RESEARCH products are furnished for LABORATORY RESEARCH USE ONLY.
This product should only be handled by qualified and licensed professionals. The product may not be used as a drug, agricultural or pesticide product, food additive, or household chemical – and may not be misbranded as such. All information on this website is available for educational purposes only. Bodily introduction of any kind into humans and/or animals is strictly forbidden by law.
*SARMS ARE NOT DIETARY SUPPLEMENTS.
*Research chemicals are chemical substances used by scientists for medical and scientific research purposes. One characteristic of a research chemical is that it is for laboratory research use only; a research chemical is not intended for human or veterinary use. This distinction is required on the labels of research chemicals and is what exempts them from regulation under parts 100-740 in Title 21 of the Code of Federal Regulations (21CFR).
ALL ARTICLES AND PRODUCT INFORMATION PROVIDED ON THIS WEBSITE ARE FOR INFORMATIONAL AND EDUCATIONAL PURPOSES ONLY.
The products offered on this website are furnished for in-vitro studies only. In-vitro studies (Latin: "in glass") are performed outside the body. These products are not medicines or drugs and have not been approved by the FDA to prevent, treat and/or cure any medical condition, ailment or disease. Bodily introduction of any kind into animals or human is strictly prohibited by law.
Additional information
| | |
| --- | --- |
| Weight | 0.5 lbs |
| Title | Default Title |